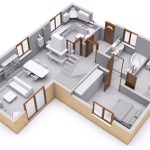 In the realm of home design, floor plans serve as the blueprint for our dreams and aspirations. They shape the way we envision our living spaces, enabling us to create homes that align with our unique needs and lifestyles. Thus, understanding home floor plans is essential for anyone embarking on the journey of building or renovating a house. This blog post will provide a comprehensive guide to demystify the world of home floor plans, enabling you to unlock the blueprint of your dream home.
1. What are Home Floor Plans?
A home floor plan is a scaled diagram of a building, representing the arrangement of rooms, corridors, staircases, and other features that make up the structure. They offer a top-down view of the residence, providing a clear visualization of the layout and flow of each room. It acts as a visual guide that helps homeowners, architects, and builders to bring their visions to life.
2. The Importance of Home Floor Plans
Home floor plans are crucial for several reasons. Firstly, they allow homeowners to efficiently utilize the available space based on their specific needs. Whether you require an open-concept layout for a sociable family home or segmented rooms for privacy, the floor plan acts as a framework to create the ideal living environment.
Secondly, floor plans serve as a communication tool between homeowners and architects. They enable conversations to flow smoothly, ensuring that all parties have a clear understanding of the desired design. Through detailed floor plans, architects can translate homeowners' visions into tangible designs that beautifully capture their preferences.
3. Types of Home Floor Plans
There are several types of floor plans, each serving a different purpose and catering to various lifestyles. Some popular ones include:
Open Floor Plan: This layout removes barriers between the main living spaces, creating a seamless flow and enhancing social interactions. Open floor plans are great for families who value togetherness and prefer open, airy spaces.
Split-Level Plan: Split-level floor plans are characterized by staggered floors, creating distinct zones within the home. This design allows for visual separation while maintaining an open feel, making it suitable for multi-generational households or homeowners who desire designated areas within their homes.
Single-Story Plan: Ideal for those with mobility concerns, single-story floor plans feature all living spaces on one level. This design eliminates the need for staircases, making it accessible and convenient for individuals with limited mobility.
Two-Story Plan: Perfect for homeowners looking for a larger living space and greater privacy, two-story floor plans separate living spaces between the first and second levels. The first floor typically houses common areas, while bedrooms and other private areas are located on the second floor.
4. Considerations for Choosing a Home Floor Plan
When selecting a home floor plan, it is vital to consider various factors that align with your lifestyle and preferences. Some key points to consider include:
Size: Determine the appropriate size of your home by considering your family size, future plans, and the functionality of each space. You do not want a cramped home nor one that feels overwhelmingly large.
Flow and Functionality: Assess how well the floor plan flows from one area to another. Consider the daily routines and activities that will take place within each space to ensure maximum functionality.
Natural Lighting and Orientation: Consider the orientation of your home and how natural light will affect each space. Incorporating ample windows and strategically placing rooms can maximize the use of natural light, thereby enhancing the ambiance and energy efficiency of your home.
5. Working with a Home Designer
Understanding home floor plans can be overwhelming, especially for those unfamiliar with architectural concepts. This is where home designers come into play. Home designers possess the expertise to interpret your vision and transform it into a practical and aesthetic design. They work closely with you to create a floor plan that perfectly captures your needs and aspirations, incorporating innovative ideas and design principles to create a functional and harmonious living space.
Conclusion
Home floor plans form the foundation of our dream homes. By understanding the different types of floor plans, considering key factors, and working with experienced home designers, you can unlock the blueprint to create a home that reflects your lifestyle, preferences, and aspirations. So, embrace the opportunities that floor plans bring, and embark on the journey to design the home of your dreams!
Got Questions? Let Us Help!
Smalley General Contracting is a locally owned and operated general contracting company that was established in 2006. We pride ourselves on our ability to complete any project we take on from start to finish! We handle new construction of homes from the point of design, all the way through to completion. At Smalley General Contracting we provide a wide array of services to our clients in the construction field. We are able to handle building design, new construction, lot preparation and development. We also take of remodeling projects, bathrooms, kitchens, additions and concrete projects. Come see what sets us apart from the competition, and see what we can do for you. Contact us today for your free estimate!
Categorised in: Floor Plans